Voice over Internet Protocol Phone System Solutions
Steamlined, Flexible, Cost Effective Phone Solutions
VOIP is an acronym for Voice Over Internet Protocol, or in more common terms phone service over the Internet. If you have a reasonable quality Internet connection you can get phone service delivered through your Internet connection instead of from your local phone company. One of the main benefits to VoIP, is reduced service and hardware costs by engaging with a certified value added reseller (and you're looking at one).
Help Desk Cavalry is fully certified in both 3CX and Zulty's phone system offerings. Just click one of the logos below to get more information.
Check out one our partners to find out more.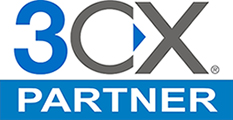 Expect More from Your Phone System and for Less Money
Overcome the limitations of outdated hardware-based PBX systems, reduce costs significantly and add advanced communications features that will make your employees more productive and your company more efficient and competitive.
How It Works
A complete 3CX Phone System for Windows consists of the server software, soft phones or IP phones, and a VoIP Gateway to connect your existing phone lines. It is also possible to re-use existing analog phones with the use of FXS gateways. A VoIP provider can be used to leverage low cost calls across your network.
Use Your Own Equipment
3CX can use the existing computer wiring, sharing the network point with the computer, and can be installed on an existing, non-dedicated Windows server or run as a virtual machine.
Expand and Contract
Add extensions or lines by simply adding standard SIP telephony equipment and save on consultants' fees because of 3CX's easy to use web-based administration
A software-based IP PBX / PABX offers many benefits:
• Easier to install & manage via web- based configuration interface
• Far less expensive to purchase and expand than a hardware-based PBX / PABX
• Improve productivity with desktop based call control and extension management
• No need for separate phone wiring – phones use computer network, easy hot desking!
• Deliver mobility by allowing em- ployees to work from home using a remote extension
• Choose between popular IP hardware phones or softphones – no vendor lock in
• Receive & make calls via the standard PSTN using VoIP Gateways or cards
• Save on monthly call costs using SIP trunks, VoIP providers or the Skype gateway!


Enterprise-Class VoIP and Unified Communications for Small & Medium Businesses
Zultys' top-rated VoIP phone system for Small and Medium Businesses helps your company streamline operations, do more for less and still meet your business and customer demands. Zultys "all in one" system combines voice calling, presence, instant messaging, faxing and more into a single appliance solution that lets you tailor your phone system to meet your requirements and connect all your employees into a single collaborative system to reduce costs and expand opportunities.
• Easy to use, easy to administer single appliance solution
• Open SIP standards-based platform lets you re-use existing phones and tap the global marketplace of SIP-based devices and applications.
• Reduce your calling costs
• Presence, Instant Messaging and Collaboration tools let your employees quickly reach the person they need.
• Manage your voice mails more effectively and keep your customers happy.
• Eliminate expensive hosted web and audio conference services and extra fax lines, use Zultys for all your communications needs.
Help Desk Cavarly is a certified Zultys provider. What does that mean for you?
Zultys does not sell directly to end users, but instead works through authorized business partners. This keeps the number of vendors you have to manage down while keeping your options of integrated servies up. We are experts at finding the right mix of technology to ensure your business works efficiently and cost-effectively.