Axel grew up in a small town in Kolkata, India. His previous work place was in Pune, which is incredibly scenic with beautiful views. Many of Axel's interests consist with being outside and enjoying nature like camping and playing with his neighbor's dogs. In Axel's free time he likes to workout, improve the performance and maintenance of his cars and learning new technologies on engines and mobile chipsets. His interests also include trekking, cooking and watching movies. Axel loves music but doesn't believe he is the best singer by no means.
Axel has joined our Help Desk Team to focus on our European client's time zone and to add coverage to our local clients in the weekday evening hours.
A true Kitsap raised professional, Rico graduated from South Kitsap High School and has lived in Port Orchard for over 38 years. Through these years he has primarily worked in the Kitsap County area. Married to his wife, Nicole for 21 years and has a 19-year-old son named Hunter. Rico spends his free time building and maintaining a Koi fish pond at his home, as well as working on and modifying cars with his son. He also enjoys hunting, fishing, and just being out in nature.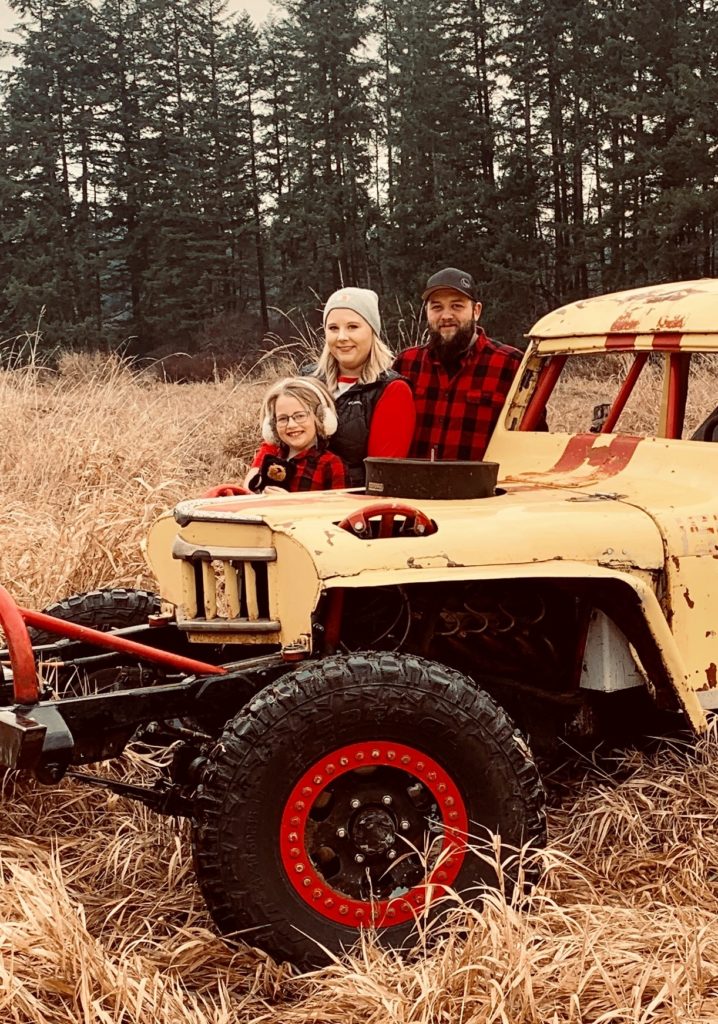 Born and raised in Redmond Washington, Megan Gisle moved down south to start a new life with her boyfriend Adam and his daughter Hadley.
Megan started working pretty early in life. At age 14 she worked as a computer accessories packager to make extra money during summer breaks. From there she went onto working with children at her local Boys and Girls Club. She loved teaching kids about art and design.
When Megan graduated from high school she decided to pursue her passion for the arts by enrolling in Bellevue College's Arts and Science program. She grew into learning all aspects of fine arts and graphic design. She always thought that this would be her career path.
Years later, working as an Onsite Service Representative at Grainger Industrial Supply, Megan decided to take the leap into Marketing. She was offered a position at The News Tribune & Olympian Newspapers as a Marketing Consultant. She was very nervous as this was not a position that she had any sort of knowledge in. It didn't take long for her to discover that her passion was not just graphic design, but more helping businesses spread their message in creative ways!
Megan Gisle joined our team at the beginning of 2019 as our Marketing Specialist and has loved it ever since. She spends her free time with her two adorable dogs, Cheyenne and Grizzly, off-road racing with her family, and exploring new ways to be artistically creative.
Greg Relaford is one of our newest additions to The Help Desk Cavalry family and has become a vital part of our Project Team since day one. Born and raised throughout the state of Missouri, Greg and his wife, Kathryn decided to make their journey to the great PNW in 1991.
Having begun working full-time at 17, Greg worked in foundry, coal mining, and manufacturing until his early 30's. Finally going back to school, mainly to study math and science, he developed a hobby working with computers.  After graduating from Evergreen State College with a Bachelor of Science, he immediately begun working as the primary IT support at Seattle Academy of Arts and Sciences (SAAS.) Over the next 21 years, Greg designed, built, and managed a complex and growing network spanning several buildings and city blocks.
Greg met the love of his life, Kathryn, through mutual friends living over on the east coast before they decided to settle down in Washington State. Greg's wife grew up in Bellevue, WA, back when it was still considered a small town. Kathryn currently works for herself as a Consultant through Audience Research. Her business is called Kathryn Owen Consulting.
For the last 6 years, Greg has been increasingly involved in the pottery and ceramic arts community; for the last 4 years working at SAAS Greg helped teach ceramic classes, as well as managing the IT department. He continues to teach the pottery wheel at a studio on Bainbridge Island, WA.
Working with Computers has always been a hobby of Greg's and he is happy to continue this passion in his career.
Jesse joined the Help Desk Cavalry Team in September 2018 as our newest Project Technician. He was born in Grand Junction Colorado, but moved shortly thereafter to San Diego CA. After about 6 years, his family was stationed in Washington State where Jesse has lived ever since. Jesse states that the most positive life changing event for him was meeting his beautiful wife and having 2 amazing children. Jesse loves playing the drums and guitar and really enjoys playing video games with his son. Jesse has a strong passion for learning. Jesse truly enjoys learning about new technology and is excited about the many opportunities that await him as part of the Help Desk Cavalry Family.
Grayson was born and raised in Kitsap County. He joined the Help Desk family as a Service Technician in March. He enjoys spending time tinkering with the newest technology and learning about new processes and tools that make our lives easier. In his spare time, he enjoys working on electronics, playing strategy games, and spending time with his Dungeons and Dragons group. Grayson has spent time working with local members of our community with personal computer repairs and has worked his way into place with the Help Desk Cavalry Family as a technician. Since that time, he has excelled in taking on new challenges and does not shy away from any issue that may come his way.
Pam joined our family in February as our Help Desk Service Coordinator. She is originally from Oregon but has lived in Washington for over 20 years. She has been married 22 years to her husband and has 3 grown children now all residing in the Pacific Northwest. She is a loyal Oregon Ducks and Portland Timbers fan. She enjoys camping, going on walks and long drives and spending quality time with her family. She loves spending time with her friends and going to church as well as serving as the local chapter director of HOPEworldwide. While working with HOPEworldwide, she has dedicated her time to Outreach programs that work to support local programs like the food bank and cleaning up city parks. They also serve emergency responders on the anniversary of 9/11 in the surrounding communities.
Pam's quote to live by is "The joy we feel has little to do with the circumstances of our lives and everything to do with the focus of our Lives" —Elder Russell M. Nelson, Joy and Spiritual Survival.
Rob was born in San Diego, CA . His father was in the military so that allowed Rob have the opportunity to go live in Japan when he was 3. Working with computers is something he started doing at a very young age. By the time he entered kindergarten he was already working with DOS Programs. While he was in Japan, he was able to enjoy the unique cultural experiences, such as attending a festival at a real Japanese castle and a trip to South Korea for the Olympics. Fun fact, he was in a Japanese commercial in 1988!
He and his family moved back to San Diego when he was 9 and he spent the rest of his early childhood there enjoying the sun, surfing, and off-roading in the desert. His dad taught him new computer skills and even introduced him to networking by involving him in the creation of their home's LAN.
He moved to Washington in 2004. He worked many different occupations until 2013 when he realized that he could still go back to school, there's no age limit! He began going to Olympic College for his Associates of Applied Science in Computer Information Systems, with a focus on networking and information security. He did so well that he decided to run with it and continued on to earn his Bachelors of Applied Science in Information Systems, graduating in 2017 and then he joined the Help Desk Cavalry family.
He spends his free time with his wonderful family, he enjoys playing PC games, playing the harmonica, karaoke, hiking with his dog, and reading. He tries to help the community when he has the opportunity with his busy life by making computers for Olympic College and helping their film club with projects.
Quote to live by:
I, not events, have the power to make me happy or unhappy today. I can choose which it shall be. Yesterday is dead, tomorrow hasn't arrived yet. I have just one day, today, and I'm going to be happy in it.
—Groucho Marx
Part two of our company structure… We have three core divisions within Help Desk Cavalry. These divisions are Remote Services (a.k.a. Help Desk Team), Onsite Services (a.k.a. Project Team), and System Services (a.k.a. Behind the Curtain Team). Last month, we discussed the Help Desk Team. This month, we want to share a little more about our Project Team. Our Project Team are the people you see at your office, hence the Onsite Services. This Team focusses on sales, onboarding new clients and […]
Erik has been working with Help Desk Cavalry since March of 2017 and has brought his 34 years of technical experience to the table, helping us improve our client's networks and experience. As a senior at Central Kitsap High School in 1983, Erik found his passion for working with computers while working on his, now archaic, Atari 800 desktop computer. He then went on to Washington State University, graduating in 1988 with a bachelor's degree in Computer Science and Business. A very motivated person, Erik enjoys a good challenge and learning new things. Erik's professional career focused on Networking and VoIP telephony systems, where he was a Sales Engineer for several different companies before coming to Help Desk Cavalry. Erik now works as a Senior Project Engineer, assisting our Project team in building networks and designing infrastructure for our clients.
In his off time, Erik loves to spend time with his family, his wife Amy of 21 years and his children: Nathan, Madison, and Paige. Erik is also very active as a sound engineer for GracePoint Church and has found his passion for acting in their Christmas Desert theatre productions. Erik spends the remainder of his active time as an assistant coach for Olympic High School varsity volleyball in the Fall and head coach for the OHS jv softball team in the spring. Erik is a firm believer that every day is a new day, and should be embraced as such with a positive attitude and a great mindset that anything is possible.